What is Card Skimming?
A card skimmer is an illegal device that criminals attach to card readers at Automated Teller Machines, (ATM), Point-of-Sale (POS) terminals, or at gas pumps. Criminals can use the data captured from the magnetic strip to steal the victim's identity or create fake debit, credit, or Electronic Benefits Transfer (EBT) cards that can be used to make purchases and steal the victim's money or benefits. Card skimmers can be hard to detect because they are designed to blend into the terminal.
Recognizing Card Skimming Devices, Pinhole Cameras, and Fake Keypads:
Most skimming devices used at ATMs and POS terminals fit over the original card reader; however, at gas stations, they can also be hidden internally behind the card reader.
Fake keypad covers can also be used to record a PIN.
Pinhole cameras can be placed above or around the PIN Pad or installed on the ATM to record a customer as they enter their PIN.
Tips for Using Cards at Gas Stations:
Look for security tape placed over the cabinet panel of the gas pump. If the panel has been tampered with, the security tape will read "void."
Look for skimming devices placed on top of gas station card readers.
If possible, use a credit card instead of a debit card to avoid entering your PIN. Credit cards may also provide additional protections against fraud.
Use gas pumps located closest to the attendant or pay inside the gas station.
How to Avoid Card Skimming: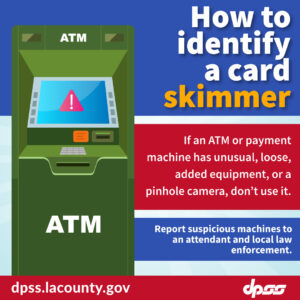 Visually and physically inspect ATMs and POS machines before swiping or inserting your card. Does it wiggle or seem loose? If so, do not swipe or insert your card, notify the business and local law enforcement.
Cover the keypad when you enter your PIN, and never share your PIN with anyone.
Use a chip-enabled card if you have one.
Use contactless-enabled cards or phones for safe and easy payments by tapping your card or phone on a contactless-enabled payment terminal.
Sign up for notifications or alerts for your bank and credit card transactions, and you will receive a notification or alert whenever your card is used.
Pay with cash whenever possible.
POS/ATM terminals in tourist areas are popular targets for skimming devices. Be extra cautious in these areas.
Tips for EBT Users to Avoid Being Skimmed:
The County or State will never call or text to request your EBT card number or PIN.
Check your EBT balance and check for unauthorized charges at CA.GOV.
Avoid using unauthorized or third-party apps to check your EBT balance. If you notice any unauthorized charges, report them to the Department of Public Social Services (DPSS) at 866-613-3777 or your local DPSS office.
If you suspect your PIN has been compromised, you can change it anytime by calling the California EBT Customer Service Helpline at 877-328-9677 or at your local DPSS office.
If you have a bank account, you may be able to have your cash benefits deposited directly into your bank account.
What to Do if Your Credit or Debit Card Has Been Skimmed:
What to Do if Your EBT Card Has Been Skimmed: 
Report any unauthorized charges to DPSS at 866-613-3777 or visit your local DPSS office.
You must report stolen CalFresh benefits within ten days of the electronic theft transaction date to be eligible for replacement of stolen benefits.
You must complete an Electronic Theft of Cash Aid Form (EBT 2259) within 90 days from the electronic theft transaction in order for food or cash benefits to be replaced.
Report welfare fraud to the California Department of Social Services (CDSS) Welfare Fraud Hotline at 800-344-8477, or DPSS Central Fraud Reporting Line at 800-349-9970, or at lacounty.gov/en/web-forms/report-fraud.html
Report lost or stolen EBT cards to CDSS Customer Service at 877-328-9677, DPSS Customer Service Center at 866-613-3777, or visit your local DPSS office.
You may also set up a free fraud alert or credit freeze by contacting the three major credit reporting agencies. Visit lacounty.gov/your-credit for more information on fraud alerts and credit freezes.
More information can be found at "10 Ways to Recognize If You Are A Victim of Identity Theft and Actions You Can Take."
If you have been a victim of identity theft use DCBA's Identity Theft Toolkit to help get your credit back in order.